Benefits of flexible screens

bright color reproduction, contrast;

you can combine the demonstrated video with other lighting effects;

small mass of the module;

easy installation;

low power consumption;

service life of 10-15 years. 

The flexible LED screen has a different appearance compared to the conventional LED display. It is made of rubber and has an insulating backing on both sides of the panel. This material is resistant to any deformation. This helps a lot with complex installation work. It is also a very plastic material, which can be given several forms.
Types of flexible LED screens
Outdoor flexible LED screens
Designed for outdoor use. 
Pixel pitch varies from 3.9mm to 12mm
Provides a viewing distance of 3 to 20 meters. 
Unique hinge technology design 
Maintains a constant pixel pitch when bending  
Magnesium alloy and carbon fiber frame
Flexible indoor LED module
Made from soft circuit board and rubber
Thickness - 5 mm 
Weight - 5 kg 
Differs in the following features: flexibility, ultralight weight
Designed for indoor and outdoor use.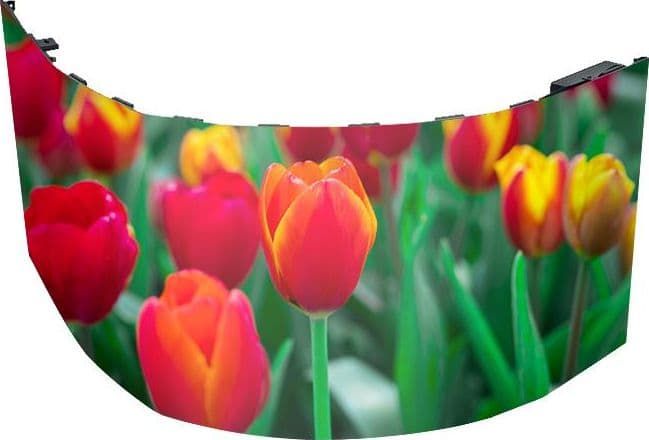 Display with soft LED curtain
This type of screen uses DFR drape. 
Any shape available: circle, triangle, cone
Takes up little space when transporting
Magnetic self-clamping devices for seamless connection
How to choose a flexible screen for advertising?
To buy a flexible screen, you need to know what to look for. Here are a few steps we recommend you follow.
Value for money  - First, you need to know the cost. In fact, this is the best indicator of whether you are getting a quality product.
The price of a product usually depends on the materials from which it is made. And, as you probably already know, the more reliable the more expensive they are. If you use cheap flexible LED panels, you will probably run into a certain problem. So, naturally, if you are going to use more expensive components, this will lead to an increase in price. 
Checking Specifications  - Another thing you need to do before purchasing a flexible screen is to check the specifications. 
The most common characteristics to look out for are  flatness, brightness, white balance effect, and maximum bending angle . Uniformity determines the sharpness of displayed images. Brightness will also affect the overall image quality.
P3.076 Indoor LED Screen 320x160mm Magnet Soft Flexible LED Module Parameter:
LED Bulb Specification
color
Package
Intensity
Viewing angle
Wavelength
Test conditions
Red
SMD2121
70-100mcd
120 

° 

/120 

°

620-625nm
25 ℃, 20mA
Green
120-200mcd
120 

° 

/120 

°

515-530nm
25 ℃, 10mA
Blue
30-40mcd
120 

° 

/120 

°

465-475nm
25 ℃, 5mA
Module parameter
Pixel Pitch
3.076mm
Pixel Configuration
SMD2121
Density
105,689px / 

㎡

Module resolution
104pixel(L) * 52pixel(H)
Module size
320mm(L) * 160mm(H) * 8.5mm(D)
driving mode
DC, 1/26 duty
Electricity parameter
Optical Ratings
Brightness
≥800cd/ 

㎡

Viewing angle
120°(Horizontal); 120°(Vertical)
Best viewing distance
≥3 m
gray variety
14 bits
Display Color
4.4 trillion colors
Brightness control
100 evaluations by software or automatically by sensor
Maximum. Power consumption
20W
Control system
Frame frequency
≥60Hz
Update frequency
≥1.920Hz
Input signal
Composite video, S-video, DVI, HDMI, SDI, HD-SDI
Control Distance
100M (network cable);
20Km (Fiber cable)
VGA mode support
800*600, 1024*768, 1280*1024, 1600*1200
Colour temperature
5000-9300 adjustable
Brightness Correction
Pixel by pixel, module by module, cabinet by cabinet
Reliability
Working temperature
-20 

+60 

C

Storage temperature
-30 

+70 

C

Operating Humidity
10%

~

90% RH

Lifespan
100,000 hours

MTBF

5000 hours
Time of continuous work
≥72 hours
Degree of protection
IP31
Uncontrolled pixel rate
≤0.01%